Additional Information: William Larry REES6th July 1920 – 26th July 1941Known to everyone as 'Larry'.Larry was my cousin who was unfortunately killed eight years before I was born but my father, Aelwyn Rees, talked about him from the time I was a child. He was the son of my father's older half brother, William John Rees and his wife Rachel May Rees (formerly Evans).Larry was born on 6th July 1920 at his grandfather's house in Llysgarenig, Glanamman, South Wales. His father was a Master Grocer in London, having been a 2nd Lieutenant in the Royal Welsh Fusiliers in the First World War.Larry's grandfather, Evan Rees, moved from the Dairy Trade in London to set up the United Dairies in Banbury where he became Managing Director. William, Rachel and Larry also moved to Banbury.Larry entered Llandovery School in Wales in May, 1931 at the age of 10. His grandfather was then living at The Grange at Thorpe Mandeville and his father was also living in the village. They both worked at the United Dairies in Banbury. Larry was a very bright boy as well as being good looking. He made a large contribution to school life and is often mentioned in the School Journals of the time. He was Captain of the cricket team as well as getting his colours for hockey and shooting. He was a school Prefect, Librarian and sub-editor of the Journal. He was Head Prefect in his final year. He was a leading light in productions of the Senior Dramatic Society playing in true Shakespearian fashion, many of the female roles, most notably as "Raina" in Shaw's Arms and the Man.He was an outstanding pupil and in 1938 he won an open scholarship to Corpus Christi College, Oxford and his name is recorded in gold on the Academic Honours Board at the School. He was clever – my father remembers him deciding he wanted to play the piano so he just taught himself. He matriculated as a member of Oxford University through Corpus Christie on 8th October, 1938 and passed his first year examination in Michelmas Term. Subjects taken were Latin, French, European History and Political Economy. During 1939-40 he passed three special exams, two in history and one in Political Science. These were effectively subjects from the final exams which would normally have been taken at the end of the course, but war regulations enabled students likely to be called up to take exams on the work already done and therefore ease the burden on them when they, hopefully returned to their studies after the war.A contemporary of Larry's at Corpus Christie says his memories of Larry are happy ones. He says he was a fine all-round athlete and Rugby was his chief game. He also rowed and was in a collage eight which made three bumps in the races during the second term in March 1939. Michael has a vivid memory of Larry. They had dinner together in Corpus Hall on 5th September, 1939, two days after Britain's declaration of war. 5th September was deep in the 'Long Vacation' so they were the only two undergraduates dining with quite a number of Dons on the High Table. Larry said the long Latin grace; the tradition was for the scholar with the lowest initial letter to his name to perform that duty. As they were the only two dining below the High Table they were given the High Table dinner. It was duck and green peas and very good. Larry was a member of the University's Officer Training Corps, probably a member of the University Air Squadron and so was summoned to join up in the very early days of the war. He left the university in 1940, before graduating, in order to join the Armed Forces, intending to return there at the end of the war to complete his degree. He enlisted in the Royal Air Force as No. 17481 Aircraftman W.L. Rees. He was soon selected for training as a pilot and, after completing the flying course was commissioned as No. 63845 Pilot Officer William Larry Rees, RAFVR on 20th April 1941.He joined No. 102 (Ceylon) Squadron of Bomber Command then stationed at RAF Topcliffe and equipped with four-engine Whitley bomber aircraft in which he flew on a number of bombing missions to targets in Germany.His flying career was short lived. On 26th July flying as Second Pilot, he took off from RAF Topcliffe to carry out a bombing mission over Hanover. After completing the attack, on the return journey his aircraft was attacked by a German ME 110 night fighter piloted by Oberleutnant zur Lippe Weissenfeld. His aircraft, Whitley Serial No. Z6576 was shot down and crashed into the North Sea, 10Km west of De Kooy and just to the south of Den Helder. None of the five members of the crew were rescued and all were posted as "Missing believed killed".Larry died only three weeks after his 21st birthday.Pilot Officer William Larry Rees, RAFVR has no known grave. His name is commemorated on Panel 34 of the Air Forces Memorial, overlooking the River Thames at Runnymede in Surrey and is also inscribed on the Roll of Honour of No 102 Squadron in St Catherine's Church, Barmby Moor, Pocklington, Yorkshire. He is also on the Banbury War Memorial and the War memorial at Llandovery School.Larry was an only child and his parents never recovered from their loss. My father was the only person to remember Larry but he has now died and I am determined that Larry's sacrifice should not be forgotten. He was a popular, clever young man and one can only imagine what difference he could have made to people's lives had he lived.The above was written by Larry's cousin Jane Wright.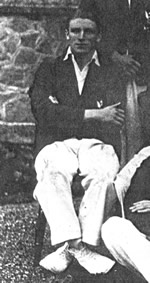 Click here for a larger image

This is the only known photograph of Larry Rees, taken from a photo of the cricket eleven 1938 at Llandovery College.